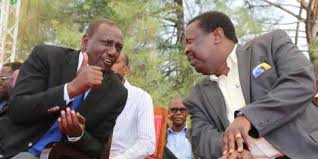 For the past two days, the Kenya Kwanza faction has faced public criticism following the leak of a power-sharing agreement that will see Musalia Mudavadi appointed as Prime Cabinet Secretary (PCS) if Deputy President William Ruto wins the August 9 elections.
A group of leaders and Kenyans, in particular, have criticized the Ruto-led team for proposing the creation of a Prime Minister-like position that is not rooted in the constitution and that they opposed in the Building Bridges Initiative (BBI).
The Kenya Kwanza team, on the other hand, has denied using unconventional methods to reintroduce BBI through the power-sharing agreement.
Kenyans.co.ke determined that Mudavadi's role will be similar to that of a Prime Minister proposed in the BBI after reviewing the BBI and the deed of agreement establishing the Kenya Kwanza alliance.
Mudavadi, like the PM position proposed in the Constitution of Kenya (Amendment) Bill 2020, will coordinate various ministerial functions in the event Ruto wins the August elections. The Kenya Kwanza agreement, in particular, states that the Interior Cabinet docket will be transferred to Mudavadi's office.
The Kenya Kwanza agreement states that "the PCS will chair and coordinate the government legislative agenda across all ministries and state departments in consultation with and for transmission to the coalition's leaders in Parliament."
"The Prime Minister's role will be to supervise the execution of the functions of ministries and government departments, as assigned by the President," according to the BBI Bill.
Furthermore, as proposed in the BBI, Mudavadi will be appointed by the President via a Gazette Notice.
Ruto has been chastised for adopting sections of the BBI document that he has strongly opposed.
"That reveals the type of character we're dealing with: a hypocrite." He is the man who said we don't need BBI and positions [for a few politicians], but now he is re-inventing BBI through the back door.
"You can fool some people for a while, but you can't fool everyone all the time," Suna East Member of Parliament Junet Mohamed said at a press conference on Thursday, May 12.
In response, United Democratic Alliance (UDA) chairperson Johnson Muthama stated that Mudavadi's position is not comparable to that of a Prime Minister, as proposed in the BBI. He claimed that because Ruto did not believe in BBI, he could not support its contents.
"They are telling Kenyans that we intend to bring BBI in through the back door, which is incorrect. There is no place where Ruto has addressed a public rally and declared that there will be a Prime Minister's position in the government he will form "He stated this.
We established that the agreement that established Kenya Kwanza did not require Mudavadi and his Ford Kenya counterpart, Moses Masika Wetangula, to receive at least 70% of the votes cast in Western Kenya in order to be appointed to the Ruto-led government.