Tensions at Inooro TV have reached boiling point as the editorial staff and Head of News, Patrick Ndirangu Rukwaro whom among other things they accuse of gross mismanagement, arrogance and high-handedness, engage in a heated email exchange.
The correspondence reveals the deep dissatisfaction within the newsroom and highlights the demands of the staff for immediate changes.
The heated exchange in the ongoing confrontation began on Tuesday when Rukwaro arroganty sent a dismissive one-liner email to the editorial team, telling them to continue 'barking'. It was a response to an earlier email the team had sent him begging him for attention to an array of issues.

The staff wasted no time in responding, firing back with a direct and assertive reply. They outlined three conditions that Rukwaro must meet to appease their concerns.
Firstly, they demanded the return of Ken Wakuraya and Njambi Njau, giving Rukwaro until 1pm on Thursday, June 29th to reinstate the two anchors. They made it clear that the presence of these anchors is vital for the continuation of Inooro TV news, emphasizing that without them, there would be no news broadcast.
Secondly, the staff insisted that Hellen Maina be removed from her position, stating that nobody wants her on the team. They claimed to have been complaining about her since 2016, suggesting that her presence has been a source of ongoing dissatisfaction.
Lastly, the staff called for the replacement of the two anchors, Cate and Harun, who were appointed by Rukwaro to fill the roles left by Ken and Njambi. The staff argued that online viewers do not want these new anchors either, referring to undisclosed screentests conducted in December. They urged Rukwaro to prioritize the original team from 2015/2016 for the anchor positions.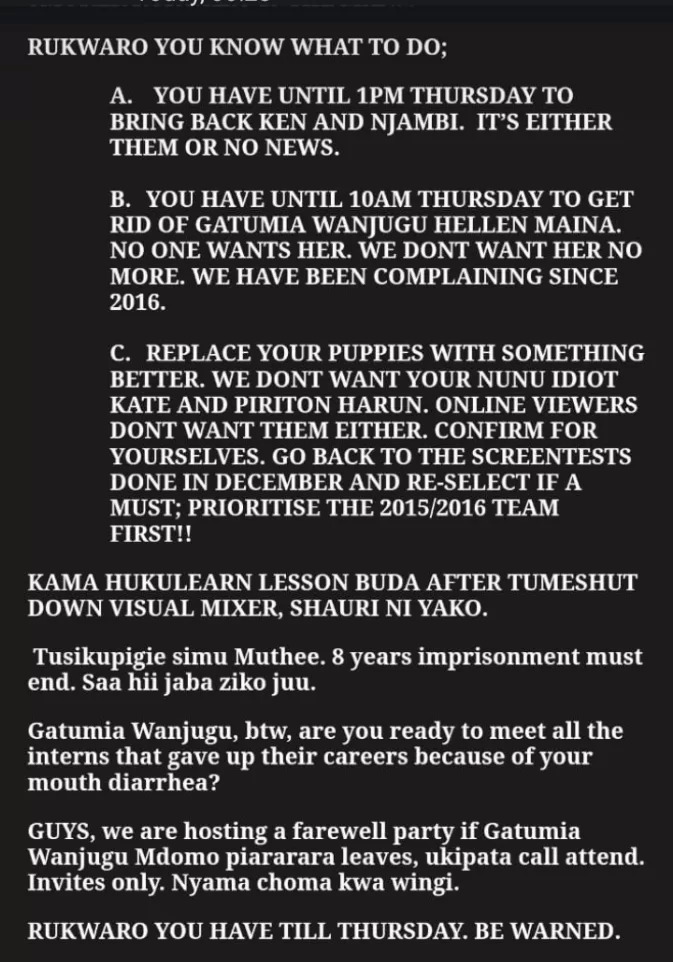 The email exchange between Rukwaro and the editorial staff highlights the deep divisions and dissatisfaction that have been festering within Inooro TV.
The demands put forward by the staff reflect their determination to bring about immediate changes in leadership and personnel to address the issues they perceive as hindering the station's success.
As the situation continues to unfold, it remains to be seen how Rukwaro will respond to these demands. The eyes of both the Inooro TV staff and its viewers are keenly fixed on the outcome, as the future of the news operation hangs in the balance. The resolution of these conflicts will play a crucial role in determining the path forward for Inooro TV and its reputation within the industry.