The well-known bottom-up economic model advocated by Deputy President William Ruto and Kenya Kwanza will not benefit Kiambu and Nakuru counties, according to David Ndii.
David Ndii, who advised DP Ruto on this economic model, now believes it is unsuitable for Kiambu and Nakuru counties.
According to the bottom-up economic model, the economy is built from the bottom of the pyramid upward, with those at the bottom of the pyramid empowered to generate more resources right from the bottom before sharing them with those on the upper side of the pyramid.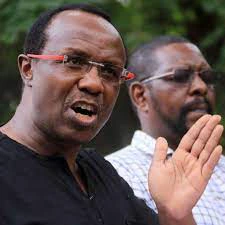 Ndii, on the other hand, believes that Nakuru and Kiambu have made greater strides in terms of development, to the point where other counties are looking to them as case studies.
Ndii has asked his wife not to join UDA and bottom-up in her bid for the Kiambu gubernatorial seat in the 2022 General Election because she will not deliver to the people as required if she does so. As a result, she was forced to concentrate on an independent ticket.
Mzee (David Ndii) works for UDA and was the first to tell me that bottom-up is not for Kiambu or Nakuru. "All other counties are attempting to catch up to these counties," Ndii's wife Mwende Gatabak is quoted as saying by TV-47.