Deputy President William Ruto, the de facto leader of the Kenya Kwanza political alliance, has continued to criticize Raila Odinga of the Azimio La Umoja party.
Ruto, who is one of Kenya's most distinguished politicians, used a campaign stop in Nakuru county on Saturday, March 19, to reassure supporters that he will defeat Raila in the August election, despite the former Prime Minister's assistance from the state.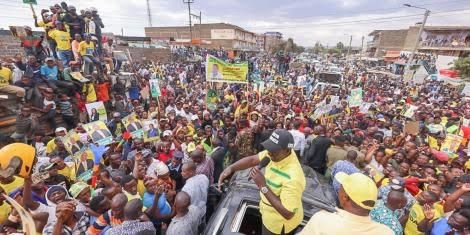 In a thinly veiled assault, the DP indicated that he will transport the former Premier in a wheelbarrow and dump him at his rural house in Bondo.
Ruto used the metaphor of a wheelbarrow, which is the symbol of his political party.
"The only thing left for this old man is to load him on a wheelbarrow and dump him in Bondo so he can retire happily," the DP said in Swahili, to shouts and ululations from his fans.
The DP, who is renowned for rattling even his boss, President Uhuru Kenyatta, did not spare the Commander-in-Chief, telling him not to interfere in his (Uhuru's) succession politics.
"The President is a friend of mine, and I have repeatedly requested that he allow me and this man who speaks in parables (Raila) to debate at the vote box. In the morning, I'll sink (read: defeat) him," he continued.
Ruto, who had a falling out with the President following their handshake in March 2018, went on to boldly predict that he will win the president despite the President's support for Raila Odinga.
"I'll triumph even if they band together against me." The votes, not the number of politicians in a coalition, are what matter."
Despite entering into a gentleman's agreement with Ruto in 2013 and 2017 that he would back him after he retires in August, Uhuru has already endorsed Raila as his preferred successor.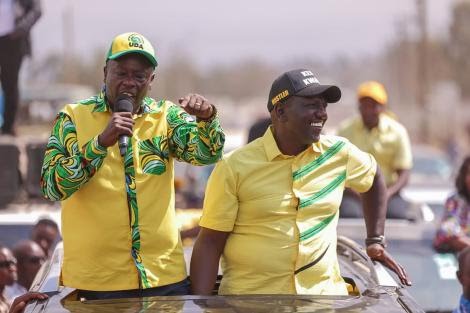 Ruto and Raila are widely seen as the frontrunners in this year's race, with both enjoying widespread support.
This will be the first time the two will face off in an election that has been described as Kenya's most competitive in its history.