Many of us had begun to wonder why Kalonzo had taken so long to join the Azimio. He announced earlier this month that he was in talks with Raila about forming a coalition with him.
Gideon took the initiative last week. Later, the OKA allies joined the Azimio la Umoja movement, signing a memorandum of understanding.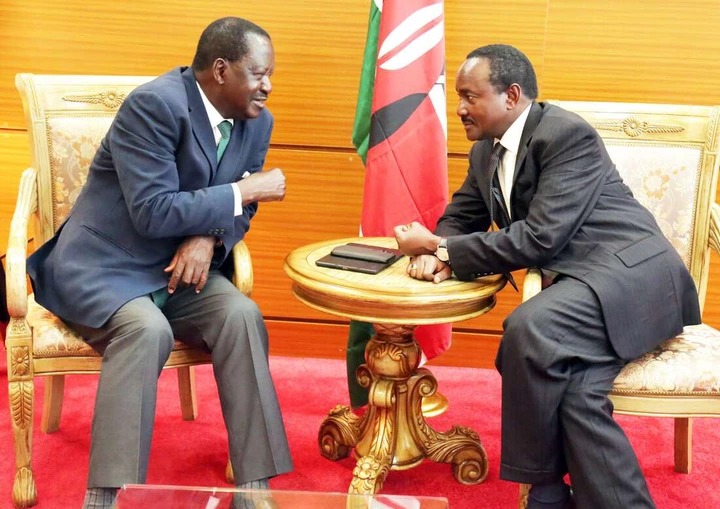 Who can forget Kalonzo's numerous delays? He began by putting conditions on the board, requesting Raila's support. That, on the other hand, is a near-impossible task.
Kalonzo now claims that Kitui Governor Charity Ngilu sabotaged his arrangement with Raila Odinga, prompting him to support the Azimio La Umoja leader.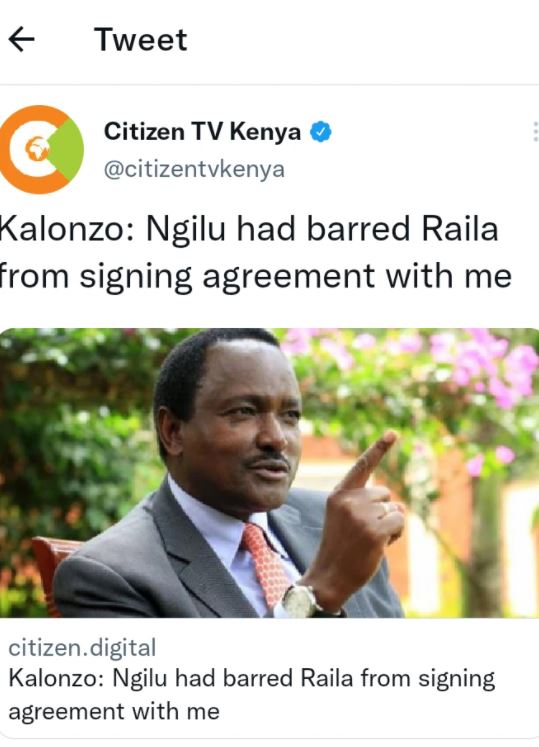 On Sunday, Kalonzo claimed that Ngilu had blocked and incited Odinga against signing the deal with him in his hometown of Tseikuru at Kitui County.
"I was reading the papers and saw that I had refused to do I-don't-know-what for 6 hours. Raila had declined to sign, and Ngilu had incited him to do so so that Kalonzo would not gain," Kalonzo explained.
"They didn't want Raila to sign anything that mentioned Azimio-OKA." Raila appeared with Ngilu at the last minute, and I was accompanied by Gideon Moi, that is the complete truth."
Odinga had a moral obligation to back him in the August votes, according to Kalonzo, because he supported him in the 2017 polls.
"When I said 'Raila tosha,' some were offended, and as the bishop instructed us this morning, do our enemy good… "If Raila has a kind heart, he should have said 'My brother Stephen tosha' to what I said at Jacaranda," Kalonzo added.
"However, he was persuaded not to agree by people like Ngilu. We have to be honest."
The Wiper leader also promised to execute all blocked projects in Kitui now that he had made a new buddy in the President.
"When Uhuru arrives, I want that office to be changed." When I was VP, we opened a similar office in Ol Kalau, Nyandarua, with Kibaki, and it was never because Kalonzo was in opposition. It's well-equipped and convenient.This one in Syeikuru isn't even tiled, and I wanted it to be a significant structure. "Now that there is no difference between Uhuru and Kalonzo, I'm going to tell the CS and PS Kibicho to send workers to come finish this task," he added.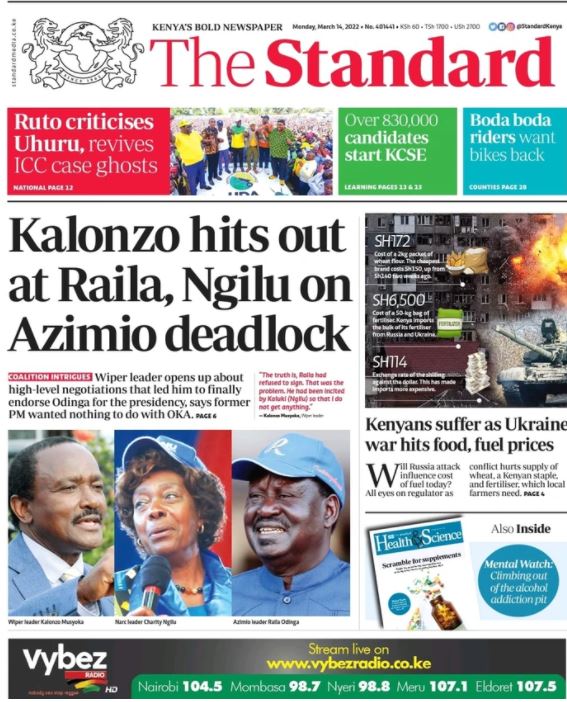 Kalonzo, 68, claimed he weighed the age gap between him and Odinga, 77, while deciding to support Odinga's State House bid at Azimio La Umoja's NDC on Saturday.
"Kusema kweli, mimi nilikuwa tayari kabisa, na nadhani bado niko tayari, na nadhani bado niko tayari, na nadhani bado niko tayari, na nadhani bado niko ta He stated, "Lakini tunaangalia umri."
Kalonzo also stated that his primary focus going forward will be on popularizing Odinga's campaign across the country.
"Mimi nitamtafutia kura Kenya nzima, kuenda na mbele itakuwa hiari ya Raila Odinga," he said.
President Uhuru Kenyatta praised Kalonzo for his support for Odinga, calling it a "heroic gesture of selflessness."
President Kenyatta remarked, "Wengi wameweka kando tamaa ama aspirations zao kwa sababu wanataka kuona Kenya ikishikana, mmoja wao akiwa ndugu yangu Kalonzo Musyoka."
Kalonzo and Ngilu had been feuding since I was in grade school. We all know that once the Ukambani governors decided to support Raila, Kalonzo's popularity in the region may have waned. Kalonzo, in my opinion, is on a mission to ensure Charity Ngilu never has to defend her seat again. He now holds her responsible for his refusal to join Azimio.It is evident from his comments that Kalonzo does not change his opinion, and that he has never decided what he wants in politics. Now he's blaming Ngilu for standing in the way of him and Raila, implying that he didn't change his mind and had always intended to join Raila.