Kabi and Milly Wa Jesus moved their parents to tears after revealing a special gift to them, a plot of land. Kabi revealed that they intend to build a house for their parents on the same plot of land.
The Wa Jesus couple gave one of the best gifts to their parents because they appreciated and loved them.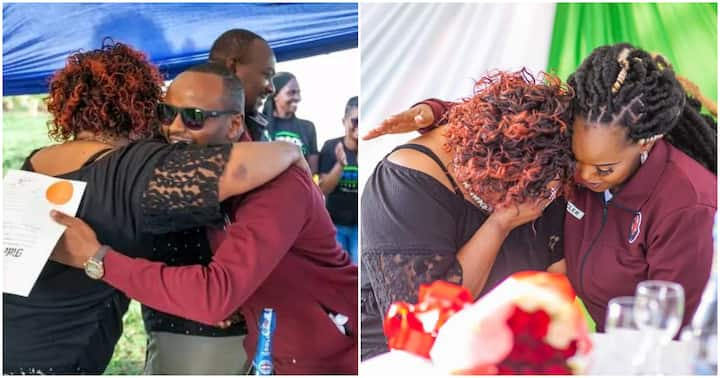 The celebrity couple purchased a plot in Nakuru's Amani Estate with Hyssop Properties for their lovely parents. Kabi captioned one of his Instagram photos, reminiscing on God's faithfulness:"As a child, all you want to give your parents is the best. We are so happy that we were able to do this for our parents."
Kabi and his beloved Milly, who recently gave birth to their second child, a baby girl, intend to construct a retirement home for their parents. Kenyan lovebirds dressed in matching outfits drove their blindfolded parents to the retirement home plot of land. Kabi announced plans to build their homestead, which was met with applause and applause. Kabi's mother burst into tears as her daughter-in-law embraced her and led her to a chair to relax.
Kabi, a prayerful man, kneeled as the happy parents prayed for Wa Jesus couple for their wonderful gifts. The happy family celebrated the good news while touring the land where the Wa Jesus' family would settle.
Hyssop Properties came through for the Wajesus Family and helped them in gifting their parents.I know you're wondering who and what Hyssop Properties are
Hyssop Properties is the fastest growing Kenyan-based real estate firm, poised to become the most preferred real estate solution provider in Kenya and beyond, with a focus on connecting Kenyans to affordable homes and land investment.
We exist to serve our clients' interests by developing solutions that are tailored to their specific requirements. We accomplished this by establishing branches in some of Kenya's most affluent areas, including Nairobi, Nakuru, and Nyandarua.
Our team is committed to providing high-quality, customized services to our clients while maintaining the highest level of professionalism. We have beaten the competition thanks to our strong market presence and an impressive portfolio of highly innovative properties that are currently for sale.As a result, we can confidently declare ourselves a force to be reckoned with in Kenya's real estate industry.
Why should you choose Hyssop Properties?
In addition to having other properties for sale, Hyssop Properties has a large portfolio of investments that it has sold over the years in Kenya's most desirable cities.
We ensure that our clients receive the highest capital return on their investment by identifying areas with high development potential.
To ensure that our customers' needs are met satisfactorily, we collaborate with service providers such as contractors and financiers.
We guarantee that every property sold is in excellent condition.
Our extensive network and market knowledge enable us to capitalize on enormous local opportunities.
Our team is made up of highly motivated individuals who are actively involved in investment property consulting, marketing, and development. This effectively summarizes Hyssop properties as a trusted brand.