On Sunday afternoon, a police officer was arrested for defiling a schoolgirl in Rabai, Kilifi County.
Activists are now urging authorities to prosecute the officer who allegedly violated the schoolgirl's rights.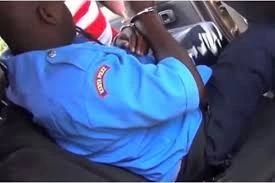 According to the Kilifi County police chief, the cop was caught abusing the girl on Sunday, May 22, 2022.
The accused allegedly bribed the teenager with Sh150 in order to quench his thirst for her.
Agnes told the police that she encountered the suspect on her way home before he asked her to accompany him to a nearby shop to do some shopping.
The accused booked a nearby lodging room at the shop and later lured the girl in.
The girl went to get a plate of chips, unaware of what was waiting for her in the guest room, and was later seen entering the lodging room by a local, who called the police.
Officers on a tour of the hotel discovered the two having a good time and apprehended them.
The suspect is being held at the police station until his arraignment in court.