• The government owns 40.57 percent of the company that operates the opulent hotel, International Hotels Kenya Limited.
• It will close its doors in December of this year.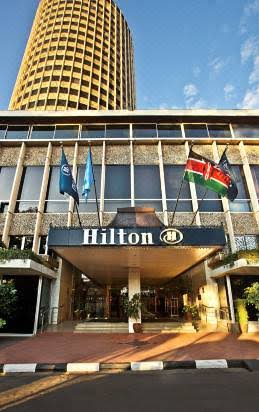 The Hilton, a well-known city hotel in the heart of Nairobi, is closing its doors after more than five decades of operation.
The ritzy hotel, in which the government owns 40.57 percent of its operator, International Hotels Kenya Limited, announced Wednesday that it will close in December of this year.
"Following extensive discussions with hotel ownership, Hilton Nairobi will close its doors for the final time on December 31, 2022 and cease operations," a Hilton spokesperson told Business Daily.
While many luxury brands have scaled back operations or closed down entirely in the aftermath of the COVID-19 pandemic, Hilton stated that its closure is not entirely due to the pandemic.
Covid-19 presented our industry with unprecedented challenges. However, the decision to halt operations is unrelated to the pandemic, according to the representative.
As a result, Hilton said it will lay off some employees and redeploy others to its other Nairobi locations, the Hilton Nairobi Hurlingham and the Hilton Garden Inn Nairobi Airport.
"Unfortunately, the hotel's closure will necessitate a retrenchment process." "However, we will work with those affected to assist them in finding alternative employment," the hotel stated.
The hotel has been standing tall in Nairobi's Central Business District since December 17, 1969, and it was the tallest building in the capital at the time. It has 287 rooms, including 45 twins, 185 doubles, seven suites, 22 pool rooms, and 27 executive rooms.
"The hotel has been welcoming guests for over 50 years." "We are proud of the legacy of hospitality delivered and would like to thank everyone who has contributed," the statement continued.
The government also owned 33.83 percent of Kenya Hotel Properties Limited, the operator of the InterContinental Hotel, which closed in August 2020, just five months into the pandemic.