Raila Odinga's plane landed in the United States of America a few hours ago. Raila left the country on Friday for a one-week visit to the United States, where he plans to meet with top government officials.
His trip to the United States comes just a few weeks after Deputy President William Ruto made a similar trip. DP Ruto and his Kenya Kwanza troops camped in the United States for several days before heading to the United Kingdom.
In Raila's case, he began his international visits ahead of the general election by visiting the United Kingdom before traveling to the United States.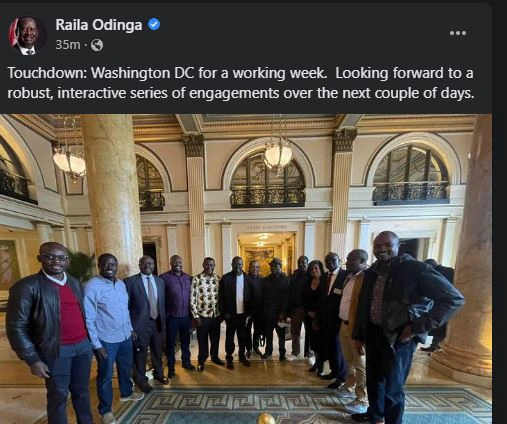 Raila announced on social media that he will be holding a series of interactive engagements.
"Touchdown: Washington, DC for a week of work." 'I'm looking forward to a robust, interactive series of engagements over the next few days,' he wrote on Twitter.
Raila, like DP Ruto, shared a photo he took shortly after landing in the United States.
Take a look at the photos that the two leaders shared, including one that DP Ruto took with the famous social media man, Cosmo Choy, a driver based in the United States.