Various political aspirants have their own ways of moving through different regions as they campaign for Kenyans' support ahead of the much-anticipated elections.
Some of the less well-off candidates campaign and rally on unusual vehicles such as bicycles, while others go door to door.
Irene Koech, a 24-year-old United Democratic Alliance party MCA aspirant, has captured the attention of Kenyans with the manner in which she is conducting her campaigns for the Shabab ward MCA seat.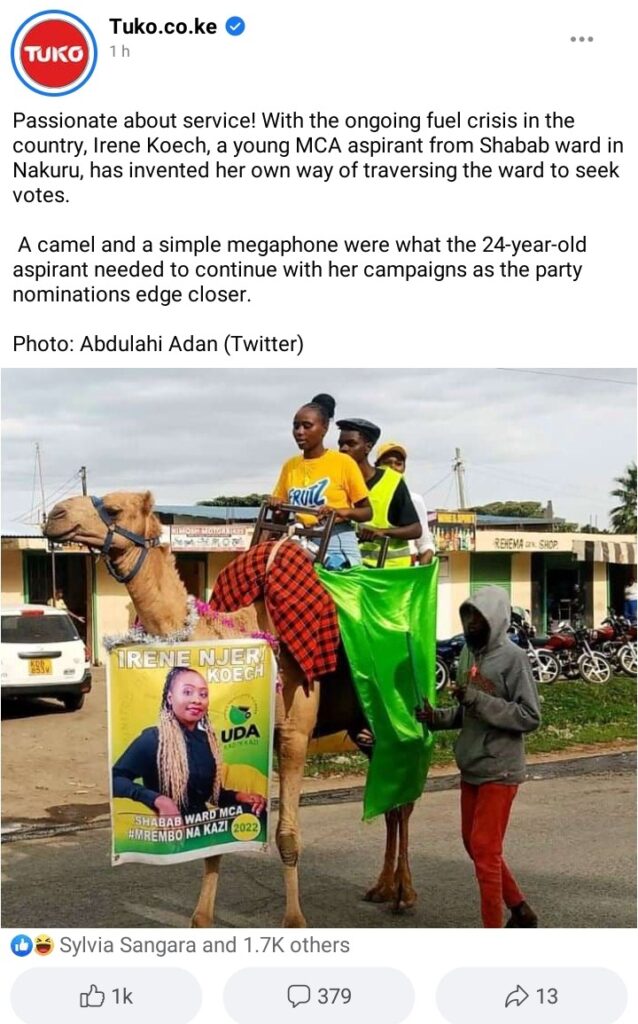 According to the Tuko News podcast, the young leader typically campaigns while riding on the back of a camel, with her posters hung on the animal's back.
Irene Koech has been seen on several occasions walking around Shabab ward, wooing residents to support her ambitions to lead them.
"Irene Koech, a young MCA aspirant from Nakuru's Shabab ward, has devised her own method of canvassing votes."
According to reports, "the 24-year-old aspirant needed a camel and a simple megaphone to continue her campaigns as the party nominations approached."
Kenyans reacted in a variety of ways, including the following: