A 41-year-old Christian woman allegedly abandoned her husband of 20 years and claimed to have married the Holy Spirit in an act that shocked Kenyans and embarrassed the church.
Residents of Makutano, West Pokot, are in shock after the decomposed body of a woman who'married' the Holy Spirit was discovered in a forest.
According to The Standard, Elizabeth Nalem's decomposing and mutilated body was discovered in a forest on Saturday.
According to police reports, the deceased would have been attacked by wild animals who would have feasted on her remains.
The deceased shot to fame in May of last year when she said 'I do' in an unusual wedding.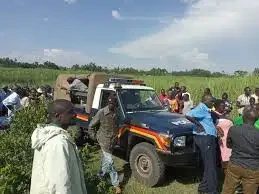 Nalem told the press that God had sent her to preach the gospel. That's why she shut down her hotel, fearing it would interfere with her new assignment.
She claimed that the Holy Spirit promised her a helicopter to help her spread the word of God around the world.