On Tuesday morning, the Cabinet Secretary in charge of the Ministry of Interior and Coordination of National Government Programs, CS Fred Matiang'i, represented the Head of State, President Uhuru Kenyatta, at a high-profile event.
The event brought together several top leaders, including Members of Parliament from the Great Lakes region, of which Kenyan MPs are a part.
His Excellency the Head of State President Uhuru Kenyatta, who was unable to attend the event in Nairobi, Kenya, was represented by the Cabinet Secretary.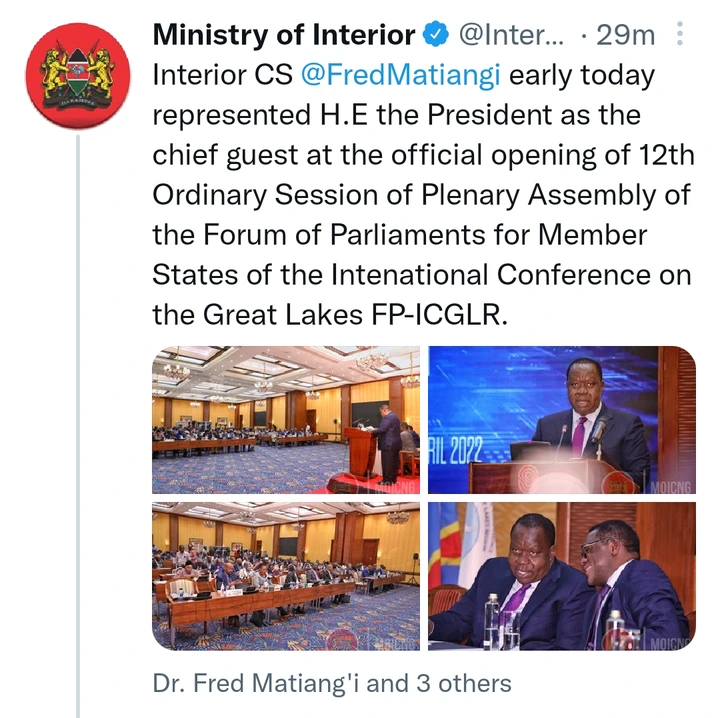 "Earlier today, Interior Secretary Fred Matiangi represented H.E. the President as the chief guest at the official opening of the 12th Ordinary Session of the Plenary Assembly of the Forum of Parliaments for Member States of the International Conference on the Great Lakes FP-ICGLR." Coordination of National Government Programs and the Ministry of the Interior https://t.co/GYNPmhscIo
The top Cabinet Secretary stated in his statement that it was an honor to deliver H.E. President Uhuru Kenyatta's keynote address to parliamentarians from the Great Lakes region.