Professor George Wajackoyah became an internet sensation on Saturday after formally announcing his presidential candidacy and outlining his platform ahead of the August presidential elections.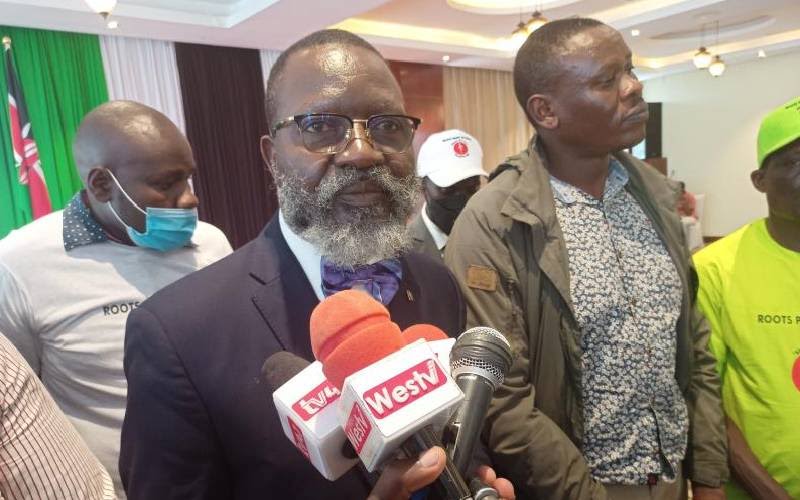 The lawyer promised to create eight prime minister positions in his government, to serve as Immigration Minister personally, to suspend the constitution for six months, to change the working days to Monday through Thursday, and to legalize and sell bhang to pay off Kenya's debts.
His eight-point manifesto piqued Kenyans' interest, with the Standard Digital tweet attracting nearly 2,000 retweets and 5,000 likes 20 hours after it was posted.
The 61-year-old professor was born in Matungu, Kenya's western region. Unfortunately, his parents divorced and abandoned him when he was three years old.
Frustrated and desperate to find his mother, Wajackoyah set out for Busia with the intention of traveling to Uganda, where he had heard she had relocated.
But, as fate would have it, they would never meet again. He encountered numerous difficulties along the way. He did, however, meet strangers who were willing to assist him.
"A Somali man in a truck drove me to Nairobi with the intention of transporting me to Mandera to work as a herdsboy. Unfortunately, while on his way to buy a packet of milk from a shop on Jogoo Road, he was hit by a vehicle "In a previous interview, the professor told KTN News.
Wajackoyah spent years on the streets of Nairobi, roaming around with other homeless boys, before being rescued by a well-wisher.
He was fortunate in that, not long after, the late JJ Kamotho, the Education Cabinet Minister at the time, learned of his plight and helped pay for his A-level school fees at St Peter's Mumias Boys High School.
"I did Form 5 and 6, but I didn't get enough grades to go to university," he explains.
After Wajackoyah finished his studies, Kamotho approached him and persuaded him to join the police force, where he worked for more than nine years.
He believes he stepped on toes while investigating the death of the late Foreign Affairs Minister, Robert Ouko, during his time with the force.
As a spy, he claims that people assumed he fled with a sensitive dossier on Ouko's murder case.
Wajackoyah was arrested, beaten, and detained before being rescued and taken to the United Kingdom for exile (UK). He did not, however, reveal much about the case that was being heard in court.
He studied in the United Kingdom. He'd dig graves and pay his fees.
Later, he relocated to the United States, where he taught Law and Economics, Human Rights, Comparative Constitutional Law, and International Law.
Wajackoyah has an LLB (Hons) from the University of Wolverhampton (UK), a CCL/LLM from the School of Oriental and African Studies at the University of London, an LLM from the University of Warwick (UK), an LLM from the University of Baltimore, and an Advanced Diploma in French from the University of Burundi.
THESE WERE HIS MANIFESTOS
If elected President, the former street boy has stated his intention to reduce Kenya's official workdays. Monday through Thursday would be working days.
"Friday, being a Muslim prayer day, would not be counted as a workday," the scholar with six law degrees explained. "Saturday and Sunday would also be counted as non-working days."
Wajackoyah also stated that if elected president, he will suspend the constitution for the first six months to "allow Kenyans to decide on the kind of constitution that they want."
One of the constitutional amendments he has proposed is the creation of eight Prime Minister positions to replace Regional Commissioners as administrative heads of Provinces.
Wajackoyah also stated that he intends to legalize bhang farming and sale in Kenya. He claims that the proceeds from marijuana sales will help offset the Chinese loans. Following that, he would sever ties with China.
As of September of last year, the country's total debt stood at Sh7.99 trillion. The total public and publicly guaranteed external debt stands at Sh4.1 trillion, with domestic debt at Sh3.9 trillion.
Commercial loans account for approximately 30% of external loans, while bilateral loans account for 30%.
China is Kenya's largest external lender, accounting for 67% of total external debt, primarily infrastructure financing, including the Sh324 billion SGR loan.
What are your thoughts about Professor Wajackoyah.Share your thoughts with us.