A man arrested in Mombasa dressed as a police officer revealed how his gang terrorizes residents during the dusk-to-dawn curfew.
The man who admitted to being a member of a gang of six who were all dressed in Administration Police uniforms, complete with a beret and a jacket.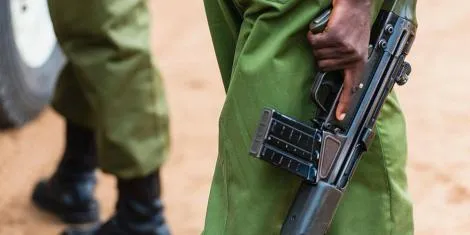 The video, which went viral on Tuesday, April 21, was taken while the thief was being interrogated by officers in a police cell.
He revealed how the gang obtained police uniforms. "The Probox driver gave me the uniform when we were six. I didn't bring my phone because I left it in the Probox."
He also revealed how they steal from people "The gang instructs me to arrest someone before robbing them. I tell the person to stop, and I begin by greeting them before the others arrive and ask for the victim's ID; the person who asks for an ID then steals and flees."
Since President Uhuru Kenyatta declared a nationwide curfew on Wednesday, March 25, there has been an increase in insecurity.
A number of businesses have been broken into as thieves use curfew to steal while people are at home.
"I have only done this today," the suspect said, referring to his first operation. My friends Rama and Rajab, as well as Hamisi, do this every day; I know them well.
"I'm from Mtwapa, and I'm here to see my girlfriend." On the Probox, I changed into these clothes, and my clothes are still there. The pro box's license plate is KCM 147K and is white in color.
"The Probox always drives me home in the morning and is owned by the driver; we don't rent it." My National ID is still in my clothes."
Mombasa Central OCS Eluid Arumba, on the other hand, stated that he was unaware of the arrest but promised to look into it.
Another video, which surfaced online on Thursday, April 9, in Mombasa County's Bondeni area, showed police officers breaking into a shop and harassing an attendant during the curfew hour.