Notiflow, the singer behind 'Foto Moto,' has stunned fans with her lavish gift to her girlfriend King Alami. The talented rapper celebrated her birthday yesterday, March 20, and decided to go against the grain (rather than receiving gifts, she decided to give them out) on her special day.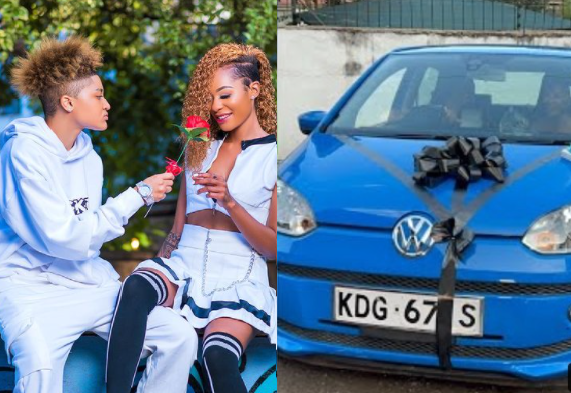 Notiflow's Gift
Notiflow gave Alami a portion of her wealth to celebrate her birthday. She purchased a brand new Volkswagen Polo for approximately Ksh 1.7 million. Alami is seen blindfolded in a video posted by a popular online tabloid as her giflriend Notiflow leads her to the extravagant gift. After seeing the gift, she unfolds her and they exchange a few hugs, with Alami in disbelief.
"I had spent my entire life looking for that one true love, left, right, and center. I've dated boys in the hopes of falling in love and staying with them forever, only to have my hopes dashed. In previous relationships, I've been used, heartbroken, and abused. I was broken, wounded, and helpless.
I didn't believe in love anymore. But then I met this girl, and everything changed. She altered everything! "She taught me the true meaning of true love, loyalty, and friendship," read part of her message.
Alami and Notiflow's relationship has recently been spiced up; evidently through the exquisite photoshoots, it's safe to say they're spending more time with each other.
Watch their surprise video