Former Prime Minister Rails Odinga has said that if he is elected president, he will imprison corrupt leaders. Deputy President William Ruto has responded. Ruto was responding to the leader of the Orange Democratic Movement's claim the day before that his government would rid the public of corrupt leaders. Raila is only attempting to scare people, according to the candidate for the United Democratic Alliance.
Deputy President William Ruto has poured cold water on presidential candidate Raila Odinga's claims that if won in August, he will imprison corrupt politicians.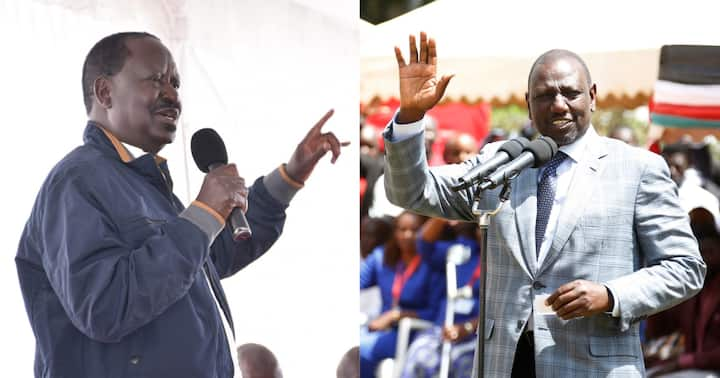 Yesterday,January 15 Raila was speaking stating that his government will be a free corruption state.He went on to say that Ruto and his associates have a history of corruption, which will have an impact on the country's economic progress if they are given power.
The Orange Democratic Movement (ODM) party leader further reiterated that he will ensure the DP and his cronies are put behind bars for looting public funds during their stint in the government.
Nimekuwa waziri mkuu wa Kenya Kwa miaka mitano, najua mahali pesa iko. Tutafunga mahali wanatoa wakipeleka kwa harambee ya vijana na kanisa. Hii wajamaa tutapeleka Kamiti. (I served as a prime minister for five years and I know where the money is. We are going to close all the lopeholes they have been using to steal money and taking them to fundraisers. We shall jail them in Kamiti)" he said.
The United Democratic Alliance (UDA) candidate has offered a rapid rebuttal to the remarks made during his rally at Jacaranda Grounds today, according to People Daily.
The DP insisted that the former prime minister's threats will not intimidate his supporters.
Ile uoga mnataka kutuuzia, sisi ni wakenya na nchi hii ni yetu na hamuwezi kututishia," (the fear you are trying to instill in us will not work. We are Kenyans and this is our country, so no one can threaten us) the DP expressed.
He claimed that his political opponents have a history in Kenya of inviting disruption, including violence and stone-throwing, and that they are not frightened of it.