When Kibaki took office, he opened up new frontiers, which are critical drivers of economic growth.
In Summary
•When Kibaki took office, he opened up new frontiers, which are critical drivers of economic growth.
• You've probably heard of the BRICS countries – Brazil, Russia, India, and South Africa, also known as emerging markets.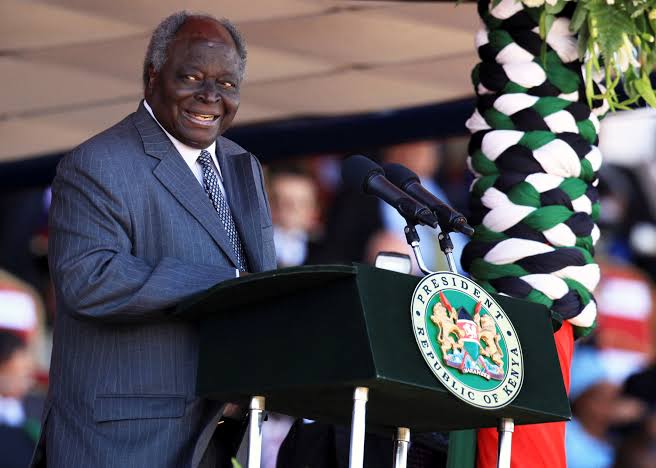 Few years ago , the Kenyan economy was growing , jobs were not a struggle, banks started to register profit in billions , Millionaires club grew larger, home owners were on the rise , the purchasing power was high , Many people moved from owning one car to two to three , Middle class earners increased , People discovered China and Dubai , private schools became a boom , many people enrolled for tertiary education, Revered PHDs that were prestige of chosen few became an open forum subsequently opening more middle level colleges and university which the Govt intends to scale down their management now due to high cost of running them, young people are doing boda boda, Going for holiday became an annual affair if not bi- annual, Mpesa shops are everywhere , Media houses were all over, secondary careers such as photography, tour agents , online services , land selling companies etc all of them were great ventures…

However, things have started to slow down , People are closing Down, loosing theirs Jobs , the circulation of money is a bit slow, Getting an attachment is as hard as getting a job , warehouses are closing , phone sellers used to do a minimum of 5units a day , today they are doing 2units in a week , a Bodaboda could earn you a minimum of Sh 400 a day after paying the rider , that's no longer the case , Home developers are stuck not even brilliant promotions strategies will see them through , we have more graduates than Diploma holders , loan defaulters are on the rise , you can name the challenges…..

Many people have associated this with the politics and the governance of the day , calling president Uhuru Kenyatta to return the economy where he picked it From Kibaki, the society is annoyed , the grumbling is very loud.
Others have thought it must be the debts the country is enduring, perhaps the cost of running devolution which incidentally is only 10% of our budget, maybe it's the corruption ( and by the way only Ksh. 230billion is missing from the circulation) that's like 7% of annual budget in an ideal fiscal year .Maybe its the high cost of recurrent expenditure which stand at 650billion annually.( incidentally the cabinet is half what Kibaki was running)
Let me save you harder thinking, all this factors have an Impact , infact many economists have taken time to analyze each factor and drawn some Deductions out of it , sometimes using economics language that is difficult for some us .

But let me address the elephant in the room , a factor that I haven't seen many addressing.
You see, when Kibaki came to the government, we're a third world country middle carder , that's to say we're a little bit richer than Angola, Burkina Faso, Uganda , TZ and many more in terms of GDP ( which am avoiding to list here not bore you) but still a poor country . Kibaki opened new *FRONTIERS* which are the Key drivers to any economic growth .

1.He opened the country to Mobile phone technology as a frontier .
2.He opened us to Auto world by allowing vehicles that are not more that 8years old to come to the country ( before year 2000 car owners were very few as many would not afford brand new vehicles) this means many auto shops , many mechanics, many car accessories dealers, many fuel stations etc
3.He opened road infrastructure leading massive construction as a *frontier* this means many hardwares, many Fundi's, many contractors ( nowadays everybody is a contractor)etc
4.Naturally other *frontiers* opened on their own such as Boda boda industry whose time was ripe employing millions of people
5. He opened the stock market to us as new *frontier* and this means more investors , more stockbrokers, more stock agents , more listing etc
So when the current Regime came to the office , they carried on with the same activities as Kibaki, Henry Rotich specifically failed to notice that these frontiers had started to saturate and subsequently stagnate the growth. Infact we definitely have no Market *frontier* in kenya today and therefore nothing to stir growth .We are continuing to saturate what Kibaki left us with and therefore the effects we are experiencing.

Immediately, Uhuru must ask Henry Rotich to resign or remain a deputy in his capacity, he is better of that way , he is obsessed with capital projects for Goverment which basically have never being Revenue generating .

You must have heard of the countries referred as BRICS – Brazil, Russia,India, South Africa
Also known as the emerging markets . This is where we need to draw our lessons fast less we become broke all of us .

These countries stir their growth with new *frontiers* e.g India is leading in software engineering and medical tourism, Brazil is a major exporter of cash crops such as coffee and dairy farming, Russia is big in Gas and ammunition's, South Africa has positioned itself as the headquarters of Africa and therefore receiving a lot FDI (foreign direct investments)

Kenya posses natural advantages which can be explored fast and first before we engage on the hardcores. I want to suggest some so as to save this country and help Uhuru Kenyatta earn his legacy faster even after defeating corruption.

They include
1. University education- both in east and central Africa , students esteem Kenyan education and want to come to Kenya for it. Let's grab this and enable foreigners from these countries to come for education trips .this means more hostels , more towns like thika due MKU, more small traders, more laptop and booksellers, more lecturers, more transport , more hotels
2.Health tourism- if we only enhanced our game in this sector a, reduced medical negligence , acquired sophisticated machines we would become like India in Africa, it's cheaper to travel from Zambia, Malawi, Burundi , Congo to Kenya than to go India . It's a low hanging fruit let's do it. More lodgings,more guides , more hospital employment,More chemists , more flights etc
3. Let's bring Dubai to kenya , all we need is more warehouses , it's cheaper to travel from Ghana, Niger , Angola , Mozambique, Namibia, Botswana to kenya than to Dubai. We don't have to manufacture anything just repackage it and be the franchise of the world brands , Dubai don't manufacture cars, phones , bags and other accessories they just repackage them from Japan, Taiwan etc
4. Let's just farm what is consumed elsewhere, all we need is to map which region to grow what for west Africa , middle Asia , Europe and America. You will never saturate the world with food . We have land , good climate and we are farmers only that we need to be more deliberate and pragmatic.

When we are done , we can focus on housing and manufacturing

This is what BRICS are doing , this what Singapore , Malaysia , Taiwan , Hong Kong did ,
We are middle class country lower carder and therefore we must change our thinking.
–
Jimmy Kagoni is a fresh-faced investment banker.
This is a tribute to Mwai Kibaki, the economist.